We manufacture and supply premium quality mild steel fabrications to a range of products. The optimum quality fabrications we offer enhances the durability factor of the product and allows it to function better. Our range of fabrications find their application in a wide assortment of industrial processes. Our gamut of fabrications includes storage tanks, chemical mixer, steel agitators, chimney, heavy duty chimney, hoes, steel hoes, vertical cylinder storage tanks, flat bottom cylinder storage tanks, agitators, industrial mixer, etc.

Chemical Mixer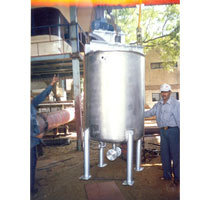 We manufacture precision engineered chemical mixture. Our range of industrial chemical mixture are designed for optimally mixing and emulsifying the powder with liquid. These chemical mixture are incorporated with high shear force of stator rotor structure, which helps in mixing of liquid and powder at a faster rate,The mixing assembly consists of series of paddle type blades rotating in opposite direction for appropriate mixing of the material.
Agitators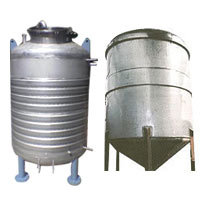 We manufacture steel agitators that are designed in accordance with the clients requirements precision engineered agitators, which are used in various industries such as pharmaceutical, chemical and allied industries. The agitators is used in various industries and receives appreciation for its close tolerances, easy operation, less maintenance, corrosion resistance and durability. Available in customized, all these agitators are used across several industries. Made using premium quality of materials procured from reliable sources all these agitators not only withstand excessive wear and tear but also can be installed with great ease.
Chimneys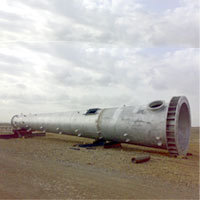 We manufacture heavy duty and high strength chimneys for several industrial purposes such as in thermal plants, chemical and petrochemical industries. Our chimneys help in controlling pollution in these industries. The length and width of the chimneys depends on the amount of smoke and the chemical components of the smoke. Our chimneys use mild steel in the manufacturing process. Depending upon the small scale and large scale industries the length of the chimneys can also vary.
Hoes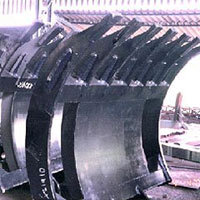 Our range of premium quality hoe is used for digging and carrying mud and stones. Manufactured from premium quality steel, they ensure durability of the hoe. The hoe we offer also finds its applications in road construction process and other activities such as rock breaking etc. It is also ideal for lifting things up. The size of the hoe depends on the quantity of the material to be lifted.
Storage Tanks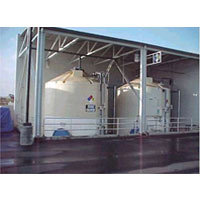 We provide various types of storage tanks such as vertical cylinders, flat bottom cylinders perpendicular to ground, and fixed dome roofs, hinged or floating roofs. These storage tanks are different from pressure vessels as it operates under no pressure. The design and operation of the tanks depends upon the fluids stored inside. The storage tanks we offer are highly used in chemical plants and also in petrochemical industries.